Rewind to January 2013, and you'll find Radix founder Fiona-Campbell Howes and Content Marketing Manager Emily King huddled in a crude cardboard fort with a microphone and mixer.
No, they weren't kickstarting a career in bedroom indie pop; they were busy making history. Good Copy, Bad Copy is now 50. And it's all thanks to you, our loyal listeners.
For this super special episode, we thought it made sense to do something substantial, or at least something to justify the massive cake we've just scoffed to celebrate. And who can say "no" to a good old-fashioned chart countdown?
In the next 28 minutes and 53 seconds, we'll upload 50 – count 'em – 50 copywriting tips direct to your brain, like Neo learning Kung-Fu. And not just from the Radix archives, either. We're talking copywriting wisdom from some of the best in the (business to) business.
It's the fastest (and possibly silliest) masterclass you've ever heard.
Listen in now and discover:
The humble beginnings of Good Copy, Bad Copy
Copywriting tips from leading B2B copywriters worldwide
What to do if your writing isn't hitting the mark
How B2B masters overcome everyday writing hurdles
Are you ready to be brilliant? Then let's go.
You can download the episode here (right-click and "save-as" to download). Or stream the episode in the player at the top of the page.
(Or you can subscribe to the podcast on iTunes here. Alternatively, add our RSS to your preferred podcast player.)
Good Copy, Bad Copy would like to thank our fabulous contributors to this episode:
Jamie Thomson, Andy Lynam, Jeremy Renals, Paul Hewerdine, Adam Harper, Leif Kendall, Carlos Hidalgo, Louis M Fernandes, Maureen Blandford, Matt Turner, John Espirian, Lyssa-Fee Crump, Jason Stockwell, Amy Walker, Mark Nicholson, James Henry, Lauren McMenemy, Laura Sutton, Honor Clement-Hayes, Harry (Harendra) Kapur, Richard Collett, Ben Lloyd, Sean McManus and Pete James.
For #b2bcopychat tweets referenced in this episode check:
Celia Anderson and Fiona Campbell-Howes, Victoria Cawthorne, Shelly Lucas and Anna Gunning.
Intro and outro music by Industrial and Marine.
Further reading…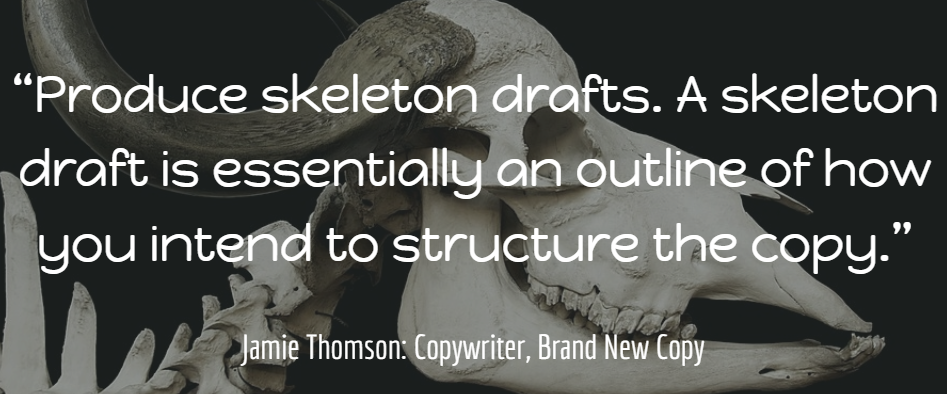 Is this the definitive guide to B2B copywriting? We couldn't possibly comment. But we can promise you 50 practical writing tips in a single blog post…