If you're going to publish effective, engaging B2B content, there's a whole host of elements your copy needs to get right. From the basic, table-stakes stuff like spelling and grammar through to structure, audience value, voice and tone.
At Radix, we wanted to bring some consistency to our internal review and editing process, so we created a 16-point checklist covering what we see as the most important aspects for any piece of B2B content to cover. With so many writers checking each other's work, it's how we keep our quality standards high.
Now, we'd like to share our checklist with you. Feel free to adopt any points that feel relevant for your own editing and approvals process – or even to pinch the whole thing if you like: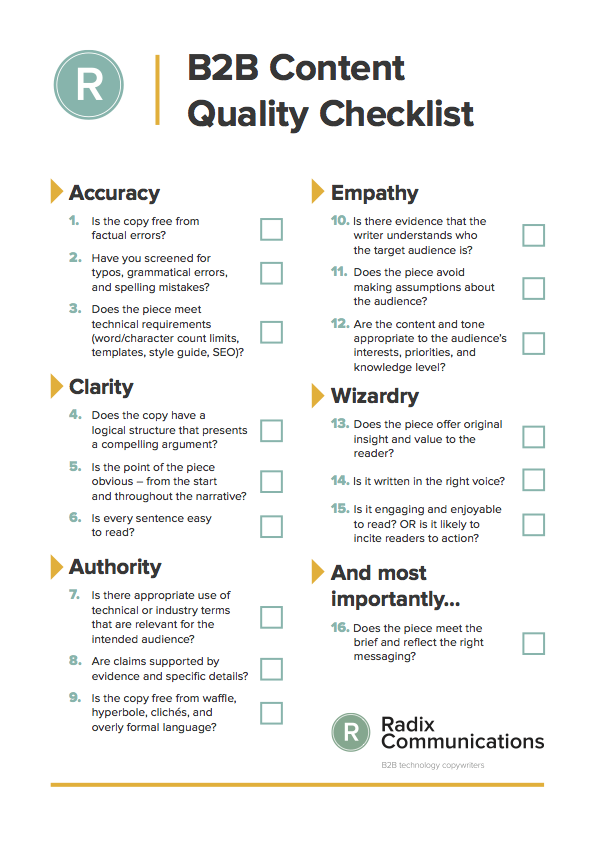 (Click the image to open the checklist as a printable PDF)
How to use your content quality checklist
A checklist may feel like a simple tool, but there are any number of ways you can use it in your content production process. For example:
Use it when you're writing, and especially when you're checking your work, to give yourself a more objective view.
Share it when briefing a writer, so they're clear about the standards you expect them to meet.
Distribute it across a larger content production team, helping them to keep every piece of content consistent.
Send it to stakeholders (if you're feeling brave), so they're more aligned about what good content looks like. You might even try restricting them to certain sections.
No doubt you can think of further ideas of your own.
In short, you can happily use and abuse our checklist in any way that helps you to create good B2B content, with our blessing. We look forward to seeing the results.
If you're reviewing B2B content, feel free to steal this quality assurance checklist. It's adapted from the one our own copywriters use to evaluate each others' work.