Social media has been ingrained in our lives for well over a decade now. So you may think I'm a bit late to the party with this guide on how to write for B2B on LinkedIn, Facebook et al.
Well, not quite. Here's the problem: since we all started, social media has exploded in its popularity. Like, really exploded. And that makes it harder than ever to be heard.
If you post something to Twitter right now your tweet will be relevant for about two seconds, before being replaced by thousands and thousands of other people (or bots), saying the same thing.
And that's the issue some B2B brands are having on social media. They're active, but often their content  just doesn't cut through the noise.
This is a shame because, when it's done right, social media is great for things like driving traffic to your website, and getting your content in front of exactly the right people.
The moral? It's time to make those characters count.
So here's my guide to writing social media posts in the B2B world.
Keep it short
For any writer, working on social media seeds is a really good way to keep your skills sharp and ensure your writing is punchy and relevant. When you've got a limited number of characters to work with, there's no room for slowly sparking up a conversation.
In just a couple of lines, you'll need to frame the challenge, the solution, and what you're offering.
Practising that skill – stripping out excess words or finding a shorter way of saying the same thing – is always worthwhile, whatever you usually write.
And remember: always count your characters when you're done. There's nothing wrong with writing one social post with the same messaging for multiple channels, but make sure you edit each one to reflect each channel's limitations.
TL;DR: research suggests the most effective lengths for status updates are…
Facebook: 40-80 characters
Twitter: 71-100 characters
LinkedIn: 50-100 characters
Make it interesting
Consider what your hook is going to be. It may be that you're promoting an asset that has some unique insight no one's ever heard before. Or your product has a feature that's unique to your brand.
But frankly, who cares?
What people care about is what value your post has for them.
So frame your message within the challenge it addresses; something you know will resonate with people. Match your solution to the challenge, and then point people towards your call to action.
Further reading…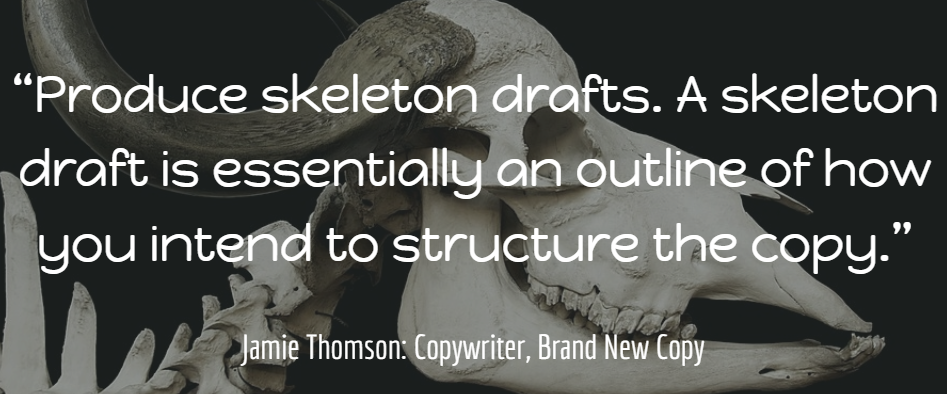 Is this the definitive guide to B2B copywriting? We couldn't possibly comment. But we can promise you 50 practical writing tips in a single blog post…
Now it's time to drill down to the detail – here's a breakdown of writing for the main social media players…
Twitter: the lean character count machine
Since Twitter increased its character limits, there's no need to cram what you have to say into 140 characters. But the truth is, you should still use 140 as a guide. It encourages you to strip out the fluff, and get your message across more succinctly.
Next, we need to talk about hashtags. They're a big part of effective tweeting, but it's vital you ensure you're being sensible about how you include them. And be specific; for example, if you're pointing to a white paper on SaaS, use '#Saas', rather than something generic like '#cloud'.
If you're writing for an established brand, this isn't the time to reinvent the wheel. Do your research – find out what hashtags have been used in the past, and use them again.
Facebook: reach your full potential
There's still some debate about how useful Facebook is for B2B. But when it comes to writing, we treat it as a happy medium between Twitter and LinkedIn. You're only confined to 500 characters for a text block (which is bordering on lengthy anyway), and advertisers can perform incredibly precise targeting – which we can reflect in the copy.
Facebook has many ad options to choose from, each with their own copy specifications. (You'll find a full list here.)
You can also use it as an opportunity to experiment with images, videos and GIFs. Basically, anything that will make your post stand out from the rest.
LinkedIn: maintain your brand image
Finally, we get to the enterprise big-hitter. Most B2B brands have a presence on LinkedIn, and it's where we see a lot of clients engaging in conversation.
In theory, LinkedIn posts tend to be slightly longer than other social channels, with a 600-character limit. But only the first 140 characters are shown in a news feed, so we tend to play it safe and treat it like a tweet. This also applies to sponsored posts where the overall limit is 160 characters.
LinkedIn also has its own blogging platform: Pulse. Like a blog, Pulse is designed to pop up in people's news feed based on the kind of content they like to read. Many of our clients use it as an opportunity to position their key people as thought leaders and authorities on certain subjects.
So what makes a great Pulse post? Simply, anything that people aren't generally talking about or something that's genuinely useful and interesting to the reader.
Social media: don't treat it as content filler
The beauty of social media is in the sheer number of people you can reach very quickly. But to create truly compelling and useful posts, you need to bring something valuable to the party. Write something that chimes with people's issues, or something they've never come across before.
If you'd like to learn more tips and tricks for great B2B copywriting, subscribe to our monthly writing tips.