Look around your office. Ever wondered what's happening inside those headphones?
For a copywriter, sound (or lack of it) can be a real differentiator when it comes to productivity. But can choosing different music – or avoiding it altogether – really make you a better writer?
Some writers only use headphones to block out the sound of nearby troublemakers. Others, like me, struggle to relax without a familiar album or artist playing quietly in the background.
And that's why I'm writing this blog: to explore what sounds – or non-sounds – help us produce the best copy.
For: bring the noise
As I mentioned, I love to work with headphones on. In fact, I find writing without them feels a bit… naked. I also loathe the sound of typing; it makes my skin crawl.
But that doesn't mean I can listen to just anything while working. Some writers find anything lyrical distracting, but I find anything musically or lyrically familiar is perfect. I know what to expect, it blocks out nearby noise, and it helps keep me calm.
If I begin to feel lethargic or unenthused with my work, Reign in Blood by Slayer or Art Angels by Grimes always seem to do a good job at reigniting my concentration. But lately, stuff like Out in the Storm by Waxahatchee, Bonito Generation by Kero Kero Bonito, and The Sensual World by Kate Bush have been my go-to writing companions.
Anyway, enough about me. Here's what my colleagues have to say on the matter and, as you'll see, they're a sensible bunch…
David McGuire, Creative Director:
I have a whole bunch of Spotify playlists called things like "Attitude", "Grit", "Inspirational Shit" and "Proper Classy", which I use to set the mood when I need to bring out a particular voice or style in my writing. (Try not to speculate on which works well for which client.)
However, my most important writing soundtrack is simply pink noise, which is like concentration in a bottle. It allows me to shut out everything else, without being distracting itself.
No, your headphones aren't broken.
Katy Eddy, Copywriter:
I'm one of those freaks of nature who can use almost anything as background noise without getting distracted. (In everyday life, I'm also one of those people who often has to scrub back in a song because I've somehow managed to tune out entirely and miss my favourite part.)
But, similarly to Ben, I have a few go-to albums that sit comfortably in my ears for when I really have to get down to it. For perkier days, there's the aggressively poppy Morning Report by Arkells, or convincing Talking Heads soundalike Blue Lights on the Runway by Bell X1.
My affection for Scottish miserabilists is well known, so on most days you'll find me hiding from the sound of mechanical keyboards in stuff like 100 Broken Windows by Idlewild, The Midnight Organ Fight by Frightened Rabbit, or Owl John by… Owl John.
George Reith, Senior Copywriter and Content Lead:
When I'm up against it I prefer to work in silence. Music is great for lifting the spirits, but it can also be a distraction. If a deadline is looming, I need relative quiet (loud mechanical keyboard clacks notwithstanding).
When I need a bit of inspiration I'll turn to some familiar tunes. Silence is a bit too dry to get the creative juices flowing (especially when you're writing your fourth email on the same topic).
As far as music choices go, it must be something without lyrics. I find vocal tracks a bit too distracting so it's soundtracks all the way. My love of Japanese RPGs is no secret in the office, so you won't be surprised to hear the soundtracks to games in this genre get a lot of time on my headphones when I'm in work.
Here's one of George's favourites – and a classic of the 16-bit era [Although, VI is better – Ben].
Against: the sound of silence
Nick Prescott, Copywriter and Business Development Executive:
I prefer quiet or background office noise to concentrate. And how much noise I can handle usually depends on the complexity of the project I'm working on.
But I always have noise-cancelling earphones on my desk, so if ever I need to block out noise I'll listen to random jazz playlists on Spotify. There's just something about it that helps me relax and concentrate.
Matt Godfrey, Head of Copy Team:
I find that when I'm in the zone doing actual, proper writing, I rarely notice most background noise. However, although music enriches my life in innumerable ways, listening to any kind of music distracts my brain too much to focus on writing.
So if Jazz-Twat is in the building [we have a communal piano – Ben], or the "all-girl, all-rocking, experimental rat jam band" is rehearsing on the neighbouring houseboat, I listen to white noise on Spotify until they stop (specifically Big Fan Dulled on a loop).
Kieran Haynes, Senior Copywriter and Content Lead:
I work best in silence. If that's not possible, I'll listen to something that's either incredibly familiar, or washy and nondescript. Or both. Like this 400% slower version of In the Aeroplane Over the Sea.
Cher your tunes with us
Enjoyed this insight into life at Radix? Get to know us even better here.
Or, judge our selections for yourself, on the all-conquering Radix copywriting playlist.
Further reading…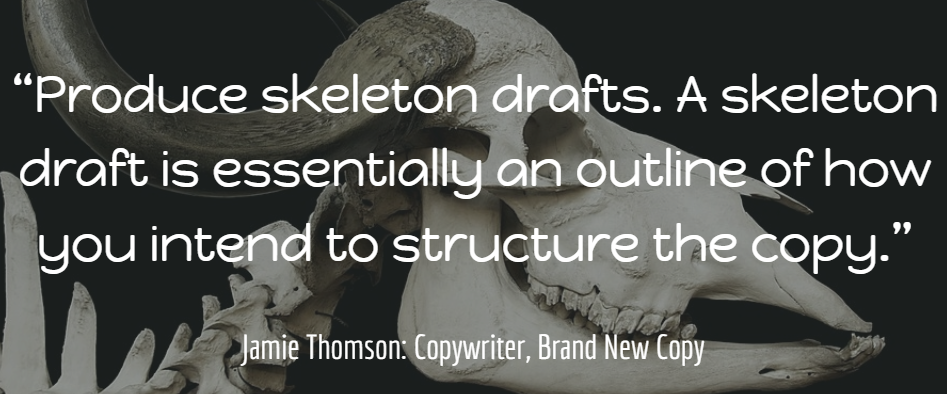 Is this the definitive guide to B2B copywriting? We couldn't possibly comment. But we can promise you 50 practical writing tips in a single blog post…